What clients are saying
Five stars for Abigail! Working with Abigail completely transformed my life. She helped me to lean into the challenges that I was facing with full faith that the light would shine even brighter once I had. If you are looking for someone to work with, I can give you a Gina Klein guarantee that working with Abigail will be an experience like non other and you will see the world through a clearer and more beautiful lens once you have. "

Gina Klein (August 2021)

Abigail Bruce is well known by me, and I can say that I would be hard pressed to find a more caring and competent therapist than she has proven to be. I have worked with her extensively for several years, and I have found no weaknesses in her professional abilities and commitment to her clients. As a psychiatrist for over 40 years, I am grateful to have her association, and can easily recommend her without reservation. -
Toby Barnes. Five stars! August 2021).




"Abigail is the most sincere and holistic support I have ever received in my life. I actually found her on Yelp over a year ago and have been consistently impressed with how her practice has helped me - in all facets of my life. Her experience from the medical field to religion has proved extremely relevant. I never had a life coach before Abigail and she has helped my life stay on track and stress manageable. The part I love most about her versus having a "regular" therapist is that she actually gives concrete advice. No matter what you are looking for in support in your life, Abigail has the tools to support you. She is an amazing soundboard for ideas and gives you the confidence you may be looking for to lead the life you DESERVE." FIve Stars

Olivia Garwood,

July 2021




Abigail helped me out of a very low point in my life where my confidence was all but gone and my problems seemed insurmountable. I had given up my career after having children, had limited financial resources and was in the midst of a difficult separation. In short I was feeling hopeless and helpless. A year on my life couldn't be any more different, I have found myself again and the joy in the everyday. I have started a thriving business and I am in a loving relationship. I wake up in the morning happy and free! Abigail is nothing short of miraculous; clear sighted, intuitive, thoughtful and incredibly intelligent she helped guide me out of the dark and back into the light where I belong. She taught me how to believe in myself again by believing in me herself and I will be forever grateful to her for all she has done for me and my children.
Daphne, Mother and Business Woman, July 2021



There is a connection with Abigail as soon as you meet her. She meets you where you are and becomes a faithful companion on your journey. She has a diversity of tools to help you on this journey, the rare power of intuition, and a heart so pure and true that you cannot and will not fail.


BB, Business Owner, Jan 2020
Recognized as one of the Bay Area's Top 18 Life Coaches by Expertise for the last five years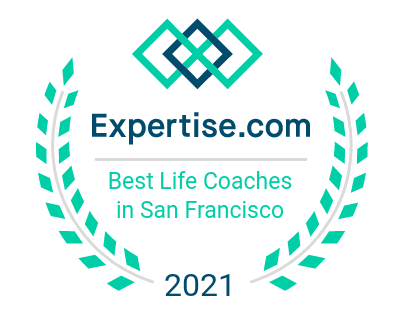 5 Stars for Abigail!! I've made a miraculous difference in my life since working with Abigail! She's helped me move through a difficult divorce separation and gain confidence in myself. I was exhausted, depressed and not sleeping and I got my health back on track. Through self-care and coaching my goals have crystallized. She provided accountability to reach those goals. I've made such positive steps and learned tools to get through the valleys and still see the light. Abigail, your professionalism integrating nursing, coaching, hypnotherapy with the spiritual guidance and loving energy is what got me through this, thank you so much! Amanda, Registered Nurse August 2020
I had the pleasure of working with Abigail for 14 months. I came to her at a very low point in my life where I had exhausted all other options, such as reading self help books, journaling, and burning through my circle of closest friends, seeking for their advice and counsel. Looking back I wish I had sought out help many years before I actually did. I had some insecurities regarding therapy/life coaching, all which were self sabotaging and unfounded. I had an absurd fear and felt that seeking help meant I was giving up, which makes no sense at all. Retrospectively, I also know that I found Abigail at the exact time that I was meant to; she was part of a greater plan to help me rediscover my higher self.
Abigail is ranked top 10 for therapists in San Francisco, and for good reason. This turbulent world needs more people like her, whose inner light has the ability to brighten the darkest, most troubled souls. I quickly felt my inhibitions leave me as soon as I began working with Abigail. She has a very soothing, calm, welcoming presence. The wisdom she has gathered from her years of work helped liberate me from a lifetime of hurt and resentment. She has a holistic approach that encompasses all aspects of life that can influence how one is feeling, factors as simple as diet, habits, exercise, etc. Abigail is a gifted hypnotherapist as well, which she implemented in several of our sessions. They served as a sort of guided meditation to help me stay grounded and aligned. Her hypnotherapy is so effective that she records them for you to listen to later. I still listen to mine whenever I am feeling anxious or stressed out, and they always recenter me.
I feel so blessed to be able to say that I am currently living the happiest and most peaceful I have ever been, which is priceless. I cannot deny that Abigail has played a pivotal role in getting me to this point. If you've ever pondered the idea of doing therapy/life coaching, if you've ever felt lost, sad, hopeless, then I strongly recommend setting up an appointment with Abigail. I have already referred her to several of my friends and family members. I want them to experience the same transformation I have recently had, that same liberation from the various abysses I have managed to climb out of with her guidance. You will not regret investing time in yourself, healing any unresolved mental, spiritual, and emotional scars. This life is what you make of it, so seize the day and do something for yourself that you will be grateful for down the line!
A. Psych-Mental Health Registered Nurse; San Francisco, June 2020
I first found Abigail's Yelp page looking for hypnotherapy for a friend. I was so drawn to her words that I bookmarked her site for myself, though I didn't know why I would need a life coach. Occasionally, I'd pull up her website out of curiosity, but never committed... Three months after, I finally reached out while in the midst of a personal crisis. Abigail made sure to get back to me right away, between Christmas and New Years, even! It's been just about a year of regular visits now, and I credit Abigail with guiding me through the most challenging year of my life while leveling up my potential. Abigail's blend of knowledge, wisdom and compassion is incomparable. Her process is rooted in reality, and she provides a tailored program for her clients. Just some of the things we worked on: long and short-term goal planning, healing trauma, healthy eating, positive communication, family dynamics, boundary setting, dating/relationships... I could go on. I've seen improvement in every area of my life since applying her guidance and coaching. But good advice needs a good platform: Abigail develops authentic relationships with her clients. I've always felt understood, supported, and loved when I walk through her doors or connect over video chat or phone call (super helpful for when I'm traveling). Beyond coaching, Abigail provides enrichment opportunities designed for women in a program called "Queen's Council". She is so community oriented and really seeks to build a society of strong, compassionate people!
Katie K. Med-Tech Writer and Founder; January 2020
I feel extraordinarily blessed to have met Abigail. In the past few years that I have been seeing her, she has given me words, visuals, concrete steps and support to move through a huge transition in my career. At the same time, she has also helped me to navigate the emotions and physical journey of menopause. Her bio and description of her work and goals as a life coach, is true and accurate, and is reflected in her work in person or through Skype. She is truthful, authentic, respectful and intuitive. She is consistently positive and energetic in her support, while keeping a calm that allows you to feel deeply comfortable and truly seen. Sessions with Abigail are empowering and you leave with an enormous amount of clarity and purpose. It is important to note that her focus on integrating all the parts of who we are, is reassuring to those who struggle with challenging health issues. Her medical background gives me assurance that our discussions about my migraines or menopause are taken seriously, and I feel safe to ask for guidance and support. Her ability to take what I say or feel or see, seriously and lovingly, allows me to make the positive changes I am seeking.
Christina S- Musician, Producer, Author, Retired Theater Teacher, January 2020
5 stars is not enough, as the stars for Abigail are limitless for me! How do I say something different from what has already been said over and over?? How do I convey how extremely blessed I feel that Abigail came into my life!
Nine months ago, I was at the lowest point in my life that I have ever been. I didn't want traditional psychotherapy from my health care provider, I was looking for a more holistic, spiritual and non-traditional therapy that HMOs don't provide. I contacted Abigail on her services, had a phone consult to see if she fit my needs and I immediately knew she was exactly what I was looking for.
My first meeting with Abigail was amazing, she is warm, welcoming, honest and truly driven to help others! Her energy is light and contagious! I left feeling there was hope and felt that I was not alone anymore in battling some of the burdens and fears I carried within. After each session I felt empowered and gained knowledge, tools and skills to help me heal within, face life with brand new hope, courage, to know that I am not alone and the power to believe in myself again. She helped me set goals and steps to achieve them. She sends my hypnosis sessions to me so I can listen to them when I need them. I know I can count on her whenever I need her, I can text or email her my thoughts or share my experiences when I can't wait for our next session. I have fought many battles within myself and nothing or no one has impacted my life more than Abigail.
Today I am a totally different person from the person that began 12 months ago! Just these past few months of my life have changed so dramatically! My family, friends and pretty much everyone in my life has commented and noticed the "Awakening" I am experiencing! And I couldn't have done it without Abigail!
My recommendation for having Abigail help guide you in whatever you may need is with the highest, utmost sincerity I can give!
Pris, Accounting Hercules, CA April 2020
I reached out to Abigail at a time in my life when I was going through an emotional rollercoaster due to a breakup and being unhappy with my job. I was looking for a more holistic,non-traditional therapy to try and learn to deal better with my anxiety, something that I had never really been able to address properly before.
I appreciate the fact that traditional medication is an option for an emergency or as part of the consult.
It's great that we can do sessions over video, makes it easier to fit the therapy into one's busy schedule.
But above all I can really see the progress one makes from one hypnosis sessions to the next; this is specially true if one listens to the recordings of the sessions when you need them.
I´ve only been working with Abigail for a few months and I can already see the impact her support is having on improving my life, I feel blessed to have found her.
Pedro, Banking San Francisco/Brazil/Portugal January 2020
Before meeting Abigail for the first time, I had seen countless therapists and I had about decided that therapy was not for me. I have been seeing Abigail for almost 2 years now, and I am so glad I gave it another chance. The work that we have done together has drastically changed my life, and I am forever grateful. I first started seeing her because of deep-rooted anxiety and because I wanted to explore my spirituality. I always feel empowered and up-lifted after a session with her, and her diverse background/integrative approach makes her a good fit for those looking for more traditional or less traditional therapeutic modalities. Something special about Abigail is that she never directly tells you what you should do, but rather she gives you the tools to figure it out on your own.
Through working with Abigail, my spiritual faith is stronger than ever before. For me, it is more of an outlook life rather than a religion or a practice. The inner knowing I feel about the connectedness of everything has allowed me to feel a deep compassion for both myself and those around me, and this compassion has given me the tools to navigate the darkness with much more grace, gratitude, and ease. My anxiety has drastically lessened and I would not be where I am today without her guidance. I recommend her to everyone and anyone - to work with her is truly a blessing.
Lauren.J. Marketing Tech Entrepreneur, November 2019
I have had one persistent and annoying phobia that has made me pretty down on myself, practically all my life. When I finally had the courage to go to Abigail and ask for help, it paid off immensely. After a single session, she helped me face my fear and opened the door for me to continue to do so on my own as well. Am I 100% cured? No, but from a scale from 1 to 10, I was living between a 6 and a 9 all my life, and now I'm down to a 3 or 4. And I'm not even close to done yet! I went for a follow up session, a longer one, and she helped me pinpoint the root of my phobia. And it blew my mind. In a good way, I assure you. My fear is no longer crippling, and I'm confident that in the months to come it will vanish completely with my persistent work on it. If you go into a session with Abigail with an open mind and heart, she can really jump-start the healing process. Couldn't recommend her more highly!

I've now had over a year to process the guidance, coaching, and hypnotherapy Abigail has given me. She set me on a path where the greater anxieties of my life have been thwarted, and where my previously limited view of my potential has been shattered and reformed into something truly beautiful.
The sessions I had in which Abigail to combat my life-long phobia have paid dividends - my friends and family are continually impressed by the progress I've made, and no one is more proud of me than myself in that regard. She helped me come to a point where I can celebrate every victory, forgive myself for any setbacks, and find joy where before all I knew was shame.
Best of all was the life coaching I received. I would express what I loved most in life and what I felt lacking, and Abigail would come up with suggestions to nourish me completely. Now instead of living in reclusively, she led me to an extremely challenging and rewarding volunteer opportunity. I do not exaggerate in expressing that pursuing this new course I'm on is the best decision I've ever made. Dedicating my spare time to helping others, in such a manner that is fun and exciting, is something I wouldn't have even considered were it not for her gentle encouragement.
Lastly, I've never felt pressured by Abigail in any monetary way - when my budget didn't allow for continued visits, she was gracious and kind. My world, in many ways due to her involvement, is full of joy, pride and love - but a time will come when life gives me lemons. When that day comes, I know that she'll be there to help me turn those lemons into champagne - she's that good.
Adam, Tech- Bay Area 2019
Abigail is a thoughtful, caring and skilled provider. I am a fellow nurse practitioner and worked with her for some life coaching and hypnotherapy. I felt well supported by her grounded, competent, and compassionate care. She provided many useful insights as well as evidence-based holistic interventions including simple energy manipulation techniques and supplement recommendations. In addition to providing immediate tranquility from the hypnotherapy sessions, she effectively supported me in developing specific new skills to help me maneuver more effectively through life transitions with greater peace of mind. I would definitely recommend her without hesitation to those seeking a holistic life coaching and support.
Caitlin, Oakland 2019
Abigail changed my life. She helped me to fully change my path and life trajectory. Not only in the way that I spend my days but also in what I understand to be possible for myself. After digging through what was available through the EAP offered through my previous employer and coming up empty handed I turned to Yelp and found Abigail. Serendipitously, our first meeting was on the day that the company I was working for closed their SF office and suddenly I was faced with the anxiety of what to do next and the knowledge that I didn't want to do the same thing again. She was my solid coach, confident, and cheerleader as I went through the process to search (including bi-weekly calls while I was on a 2.5 month trek through Central America) and readjusting back into the working world. Forever thankful to have the opportunity to work with Abigail and to have the rituals that she's given me as part of my toolbox.
Gina K. Bio-tech Sales, April 2019
Abigail is a generous,gentle and gifted life coach who honors and celebrates those of us fortunate to have been guided by her. Like others below, I rarely write a review. But Abigail is special - she was present for me during a health challenge and using all of her gifts, expertise and training, modified our work together which initially was to navigate retirement after a long and wonderful career. I fully and happily endorse her work!
A. H. Retired Doctor of Nursing, August 2019
Major life transitions often involve personal pain and you need someone in your corner who really understands how to help. For me, Abigail was that exceptional person. My name is Graham and I am a Grandpa. I have lived through some challenges and sought help in my midwestern hometown. But as a resident of San Francisco I did not know who could help. After a major job change and personal and family health challenges I needed a life coach with many skills. Abigail was just the right person to support me. She helped me build a new health team, guided me to understand how to work through personal pain and helped me get on a pathway of hope. She is so effective and deeply focused on what works. Her insight and wisdom about health, nutrition, and personal growth is amazing. Thank you, Abigail.
Graham, Grandpa, Entrepreneur, San Francisco, August 2018
Abigail is truly amazing and doing her life's calling healing others. I've worked with her on a few occasions and have felt instant relief from my everyday stress, dealing with repressed emotional trauma as a child, to listening to her pregnancy hypnosis and having her calm my spirit from afar.
The in session visit she was able to teach me techniques to take home and use in situations where my anxiety might arise. She also supplied me with a nice essential oil to calm my mind. She graciously provided a pregnancy hypnosis for me to listen to in the comfort of my own home. I recently listened to it and WOW, it was exactly what I needed. As women we experience so many different emotions while pregnant. Her hypnosis reminded me to remember to connect with myself and the miracle inside me. It was perfect, soothing and guided me back into my positive light.
I can't express enough how much relief and weight has been lifted from my shoulders while working with Abigail. She is kind, nurturing and gentle in her approach. It's nice to know that even when you're not in a personal session with her you can expect there's follow up checking on your progress. She is a one of a kind healer and I consider her to be a step above the rest. I would recommend a session with her for anything you might be unsure about, she will guide you to a better place.
Pamela, H. New Mother, June 2018
One of a kind. I saw Abigail continuously for about two years and can say it drove unthinkable positive change in my life over that time. Our work together helped me better understand myself and others, and really allowed me to navigate life and its difficult decisions.
Abigail is extremely keen and observant, and understands you to a unique degree - she is able to make inferences beyond just what you discuss with her, and this is how she is able to be so uniquely effective in what she does. Additionally, her spiritual approach to mental health is a very refreshing and a powerful channel to eternalize the tools she provides. Her hypnotherapy sessions are incredibly thoughtful and I find myself listening to them again and again - continuing to provide value long after our session.
Highly recommend working with Abigail to anyone with not only a desire to improve their mental health, but to create an approach to ongoing preservation and self-betterment that will last a lifetime.
Evan. C. Finance, San Francisco to Southern California, February 2018
Abigail was fantastic, and I am a better person for having worked with her. She's an astute observer and a keen listener. Even more than that, the advice she gives is effective and actionable. In short, her process is overwhelmingly compassionate and empathetic.
Through working with Abigail I have gained a greater understanding of my own inner mechanisms - my patterns and behaviors. Together, we've honed a number of techniques for productive reflection and meaningful adaptation, for finding and maintaining healthy balance in my life. I've definitely enjoyed our sessions, and her commentary has always been genuine and insightful.
I don't write reviews often, so my recommendation is a strong one!
C.T. Computer Engineer, San Francisco, February 2018
I have seen 4-5 practitioners for medication, talk therapy, hypnotherapy, you name it. I've ranged from average feeling to just disappointed and feeling like I couldn't be helped. Abigail is incredibly kind, grounded, and warm. She has approached my severe anxiety and depression (and severe intolerances to certain medications) with hope and love. Through talk, hypnosis, spiritual guidance, and straight up biological strategy. She has even helped with my more embarrassing fears like emetophobia and OCD from college years stresses.
She is changing my life for the better. No, you know what Abigail does? She helps me change my life. She makes me independent. No band-aids. All love and progress. Also - I don't do Yelp reviews ever. This is for her. Bless this woman!
Z. Actress. Dec. South Bay, 2017
I initially contacted Abigail because I was away from SF for work and read that she would see patients (even new patients) via Skype. Now we meet in person as well, and the whole experience has been very positive. Key for me is Abigail's use of both traditional/pharmaceutical solutions and alternative or holistic approaches (EFT, meditation, exercise). She's suggested a lot of specific tools and techniques for me, and when a tool doesn't "work" for me, she is ready with new ideas. Most importantly for me, Abigail takes a positive, solutions-oriented approach; she constantly reminds me of my small steps forward and she never admonishes me for any stumbles.
Amy D, Writer/Copy-Edito, December 2017
There is a connection with Abigail as soon as you meet her. She meets you where you are and becomes a faithful companion on your journey. She has a diversity of tools to help you on this journey, the rare power of intuition, and a heart so pure and true that you cannot and will not fail.
Bryan, Artist and Entrepreneur San Francisco, Dec. 2017
Abigail is incredible. I have been seeing her monthly for the past 9 months or so and she has been such a positive influence in my life. I love the spiritual/holistic approach she takes in her practice and her non-judgmental nature. After a session with her, I always feel like I am in a better place mentally and I always learn some valuable insight that I can practice and apply to my life. She's truly an amazing human with a beautiful soul and I would recommend her to anyone.
Lauren, in Tech. San Francisco, Dec. 2017
Abigail is fantastic! My fiance found her through Yelp and I couldn't agree more with the reviews from others. I originally sought therapy for depression, anxiety, and stress. I didn't want to go the medication route but was hesitant about treatment that felt like hocus pocus. Abigail has a very balanced approach. She always brings in science for less conventional techniques which I appreciate.
Beyond having a wealth of knowledge, she is compassionate and has never made me feel judged. I always come out of sessions feeling uplifted regardless of the topic discussed. Abigail is so intuitive, providing insights and tools to help guide you that always feel spot on. She's great at picking out supplemental resources - books, meditation/hypnotherapy recordings, podcasts, etc. She really gives you a diverse toolbox to turn to outside of sessions. If you decide a technique isn't working or you want to switch gears, she doesn't skip a beat and is ready with something new. She also stays in touch in between sessions so you always feel supported.
I've done in-person and video sessions and find the video sessions just as beneficial. Abigail has kindly accommodated times I've need to switch from in-person to video at short notice. I really can't recommend her enough!
Katie, Nov. 2017
I have been working with Abigail since October of 2016. I was injured and lost all vision in my left eye and most of the vision in my right eye. As a result of these injuries I now have chronic migraines, PTSD, and night terrors. I had some depression and anxiety before my injury that became very severe after my injuries. We use hypnosis, NLP, guided meditations and EFT to help me find ways to better counter the effects of the mental issues that were caused by my injuries or made worse because of my injuries. We do all our sessions through video or on the phone.
I have never felt so safe and supported before. We also do coaching to help me build my massage business, as I can no longer do the other types of work I did before because I'm legally blind now. If you are looking for an integrative mind-body healer/coach that will help guide you towards better mental health using a variety of techniques, I would highly recommend Abigail! We are still working together to make my life better. I am so grateful to have found her and her caring and understanding way of helping me.
Kelli, T, Missouri, Nov. 2017
I'm a merchant mariner and work at sea about half the time. This makes it difficult to reliably schedule face-to-face counseling sessions at Abigail's lovely office. Thankfully, Abigail offers "telepsych" sessions that can be conducted with FaceTime or Skype. These sessions are extremely helpful because they allow me to maintain continuity with my progress of self-development and understanding even while I am at sea or traveling abroad. Telepsych is perfect for the traveler or mobile businessperson, or merchant mariner! We don't have to be in San Francisco to connect with Abigail, and we can still get her amazing coaching, wisdom, insight, book and health recommendations, everything! Abigail and I have done all the methods over the phone that she practices in person. I'm grateful to have found Abigail and strongly recommend her. She helps me understand things.
Morgan, San Francisco, CA, 2017
I want a ten-star button. I have survived so much trauma related to mental health and medical providers - Abigail is like the person I always dreamed of working with - who is caring and brilliant - who understands an integrative approach AND helps manage the "meds" - AND has that healer's "touch".
I always feel like life is more possible when I leave from an appointment with her. RUN do not walk to get an appt with her - I know her practice is filling up very quickly. I can't imagine ever finding a better overall wellness provider. Thank you, Abigail for your smart, meticulous and nurturing work.
It is so rare to find someone who possesses brilliance, intuitiveness, gentleness and authority - all in one. I feel so grateful that Abigail exists!!
Emily, PH April 2016
Abigail truly is a wonderful Nurse Practitioner, Intuitive life coach and spiritual counselor. The things that I appreciate the most about her practice:
-I feel as comfortable as though I'm speaking to a friend when I share about my life; of course, with the added bonus that Abigail offers tools, methods and suggestions that are actually helpful! She's not just a sympathetic listener, but a problem solver.
-I always feel as though I am in competent hands. Abigail's holistic approach encompasses not only current research in the medical side of mental health, but also spirituality and alternative healing.
-Abigail also follows up and communicates through text message and email, which can be very helpful for those with busy lifestyles.
-In addition to recommending an array of vitamins and supplements supported by research to be beneficial for mental health, she also makes book recommendations for certain topics you might be struggling with- so helpful for changing thought processes and reexamining spirituality.
Since I began seeing Abigail, I feel energized, healthier, and my anxiety and depression have improved greatly. More importantly, I feel much more optimistic about the direction of my life, and that there really are solutions and that change really is possible.
The hypnotherapy sessions are incredibly relaxing and motivating as well. It's wonderful that Abigail creates mp3s that are tailored specifically to certain topics you discuss-so helpful! All the tension I feel during daily activities in my neck and shoulders subsides when I'm under hypnosis. Thank you, Abigail for all your help, and I definitely look forward to seeing you again soon!
Anna Editor/PR June 2017
​
"You've helped me more in our five coaching and hypnotherapy sessions than my therapist has helped me accomplish in three years. No more anxiety and fears. Thanks, Abigail. You are highly recommended."
Roy, Professional Musician and Stage Performer, San Francisco, 2017
Because of the long distance from my home to San Francisco I was glad to see that Abigail offered also Video sessions. She is extremely sensitive to your state of mind and can pick up the right book, video or audio material which will help you to grow massively. She gave me a book that changed my life.
She is also extremely caring, but will make sure there is some level of action taken after the session.
I am very glad I found her and got in touch even though I knew most likely I will never meet her face-to-face :)
Maret, Marketing South Bay 2017
Abigail is fantastic! I had never seen a nurse practitioner or coach before but started seeing Abigail about a year ago to help me through some big life transitions. She is very easy to talk to and has helped me immensely. Even though I'm doing very well now, I still have Facetime sessions with her and she always has some new insight to offer. I tend to be skeptical of holistic healthcare and anything too "new age," but Abigail is always able to back up her recommendations with studies showing their effectiveness. She has given me a lot of helpful new tools that I might have scoffed at before - so if you're like me in that sense, don't be too quick to dismiss her holistic approach.
Claire, San Francisco, CA, May 2017
Ever since I was 14, I've suffered from intense anxiety, whether it be in the form of panic attacks, profuse sweating, or overall avoidance of social situations in general. After much medication and side effects that put a damper on my personal life (though it did work fantastically for my social anxiety), I've talked to multiple therapists and did a significant amount of reading (peer reviewed sources) about hypnotherapy. For my first appointment, I was a bit nervous, mainly due to the uncertainty. Once I arrived, Abigail made sure to talk with me first, to listen, and to do exercises to properly reduce my anxiety before the hypnosis. I won't go too much into the details of what happened, but rather how I felt afterwards. My anxiety was so drastically reduced; for the first time in a long time, I didn't have those fight or flight impulses (of panic) flowing throughout my body, and it was honestly amazing. I have 1 more scheduled follow-up appointment with her, and honestly, I'll likely schedule a couple more. Oh, and to note: the fact that she has the proper qualifications as a Nurse Practitioner and is a certified hypnotherapist, makes me feel that much better.
Kristen W., January 2016
I lucked out finding Abigail! Serendipity! Abigail has helped me crawl out of my hole and into living my own life and being true to myself. Social anxiety depression, caring too much about what others think…. She has helped me break free of wasting my energy on things that aren't helping or bettering myself and instead focusing on positive life goals.
Our telepsych sessions are amazing!!! I live in san jose and she is in inner sunset sf area. Thank goodness she does telepsych sessions. The telepsych sessions are just as nice as seeing her in person! She really has a way of connecting and being there with you. Not to mention it is so convenient and accommodating to my work schedule. We are even able to do our hypnosis sessions online! I get to relax and lay in bed and not have to worry about the commute. Awesome.
It is also nice to listen to her audio recordings after our sessions because they have continued to help me tremendously through my new changes.
Her approach is non judgmental and she understands and meets you where you are. She gives you great tools to use every day to keep you on track. If you can't meet her at her location, you can video call! It is amazing and a blessing to get to work with her. Thank you, Abigail :)
B.M. Southern California, 2016
I reached out to Abigail at a time in my life when I was going through an emotional rollercoaster due to a breakup and being unhappy with my job.
I was looking for a more holistic, non-traditional therapy to try and learn to deal better with my anxiety, something that I had never really been able to address properly before. I appreciate the fact that traditional medication is an option for an emergency or as part of the therapy.
It's great that we can do sessions over video-conferencing, makes it easier to fit the therapy into one's busy schedule. But above all, I can really see the progress one makes from one hypnosis sessions to the next; this is especially true if one listens to the recordings of the sessions when you need them. I've only been working with Abigail for a few months and I can already see the impact her support is having on improving my life, I feel blessed to have found her.
P. Computer Engineer, January 2016
Abigail has a unique way of treating her clients. Working with her is different from working with therapists who only listen to you the whole session without providing any helpful advice or coach you to make meaningful change. She listens, teaches you techniques to cope, sends you books and recordings to broaden your vision or even gives you homework to help find the roots of your problem and solve it. Before her and after trying multiple therapists, I was hopeless that anyone can help me with my problem anymore, but she was my second chance for a purposeful and rewarding life. Thanks Abigail!
Angel S., Sunol, CA, June 2016
Abigail helped me to tap into the hidden powers of my own mind. I was always in control when in a hypnosis state of mind. It's not like the hokey pokey stuff you see on tv. You're in control but you need someone you can trust to help access those high states of being. I've been a smoker for 30 years and I quite once for a few years about six years ago and then started smoking again and haven't been able to quit. In one session, I went home, tried a smoke, and hated it. I've smoked two times only one drag for each, in four weeks because it was social holiday and haven't smoked in a week. I've had no withdrawals, no cravings, I just became a non-smoker. It was the easiest best thing I have done coming to see Abigail. Thank you.
Peter K., General Contractor, San Francisco, 2016
Hypnosis, coaching and counsel have helped me remove the blocks that have prevented the changes that needed to occur...Wow, the power of the subconscious! Guided imagery, self-hypnosis recordings, and the reframing really work to change my perception and experience!"
Sarah T. , Corporate Recruiter, San Francisco, July 2017
I came across Abigail on my Yelp searches and connected with her initially through email. I was looking for a health practitioner who is compassionate, personable and relatable - she has all these qualities and more. She addressed all my questions and reservations about hypnotherapy patiently and thoroughly and made time to have a personal phone consultation (for free) as to whether the therapy would be a good fit for me. She was kind, supportive and even recommended a book to read prior our first meeting- I am very much into learning about various approaches to healing. Her website is very informative and she provided additional documents on hypnotherapy that helped me feel more prepared for our sessions.
After two sessions thus far, I am already feeling more confident in managing my anxiety exacerbated by my last few years of being in graduate school. Hypnotherapy is different that what common perceptions convey it to be- under hypnosis, one is under full control but deeply relaxed to a level that allows the subconscious mind to surface. When one is so deeply relaxed and released of inhibitions, it becomes easier and more natural to process thoughts and emotions and to make deeper connections between root causes and present problems. The role of the practitioner or therapist is to guide you into this relaxation and provide direction into areas of your life for you to explore. This may include regression where you tap into parts of your past. My sessions have also included powerful positive visualization exercises and emotional freedom techniques that Abigail taught me. She also provides a customized mp3 recording for you to listen to at home. All of these tools are powerful in that they are ways I can actively take control of my mind until the anxiety subsides.
I recommend Abigail for anyone looking to work on mental, emotional and behavioral issues (including depression, anxiety, addiction). She really prepares me for our sessions and prepares herself to give the optimal treatment as well. Additionally, she is a nurse practitioner, trained massage therapist, energy healer, and intuitive. I felt that these qualities helped a lot in her understanding of my situation on a medical basis as well as connect with me energetically.
Karen Y., Licensed Acupuncturist, San Francisco 2016
Abigail has a wonderfully caring personality. She's warm and insightful. I went to her to try to figure out why I've been sick for so many years with many aliments. She did a hypnotherapy session with me and I seemed to connect with many loved ones that passed on. I received some messages about what I need to do to move past this illness. Since my first visit to her my dreams and meditation sessions are much more vivid. Not sure exactly what she did but it worked.
L. F., University Professor, San Francisco, 2015